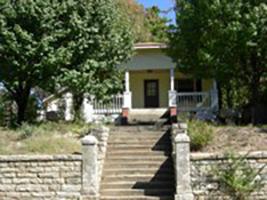 James P. Gregory House
Contributing. ca. 1925.
This one-story, front-gable-roof Craftsman bungalow has knee braces, and a clipped gable at the front. Porch has a replacement balustrade, posts on capped brick piers, and capped brick cheek walls framing the stairs from the sidewalk to the house.  Cut stone steps and cheek walls run up the hillside in the front of the house. Foundation is brick, windows are nine-over-one, and front door is modern. There is a notable cut stone retailing wall below the house at the level of the street. James P. Gregory, a salesman at Hendersonville Auto Company, and wife Hattie, appear to be the first owners of the house, living there from 1926 to 1944.  Additional occupants have included Pascal M. Camak, secretary of the Chamber of Commerce, and wife Helen (1945-1946); Dr. Walter W. Glazener, a  vet, and wife Katherine (1948 - 1951); George H. and Martha Phelps (1952-1953); Benjamin E. Blackwell, a salesman at Pfunter-Vaughan Motors, and wife Ruth (1954-1955); and T. M. Blackwell, a salesman, and wife Axie (1956-1957). (Sanborn maps; city directories)

910 Locust Street.  Garage.  Contributing. ca. 1925.
One-story, front-gable garage with exposed rafter ends, double doors, and German siding.
Historic District
Cold Spring Park